India's Telangana State plans blockchain, cryptocurrency integration
Tech innovators gathered at T-Hub's Hyderabad campus in Telangana to discuss blockchain technology and its application in a burgeoning Indian economy this past Saturday, setting up an altogether different scene from earlier this March when demonstrators met to protest governmental restrictions on cryptocurrency in India.
The Telangana Government Director for Emerging Technologies, Rama Devi Lanka, participated with blockchain innovators from Edwisely, the School of Accelerated Learning, Birthvenue, and Relex Development discussed the importance of innovation within compliant frameworks.
"You say you want to make Telangana as the Malta of Asia, but we have a bigger vision and a bigger ambition," Lanka said. "Our vision is for Telangana to be one of the blockchain capitals of the world."
The Blockchain for Telangana conference united blockchain pioneers to discuss blockchain implementation in the Indian state: topics included token-based investment, governmental use-cases, FDI in Telangana, and legislation that could transform the region into the "Malta of Asia."
"In terms of regulating financial or capital markets, we do want to protect investors. But at the same time, we need to keep ourselves open for innovation," said Keith Hilden, CEO of Relex Development, a real estate and infrastructure development company.
Hilden was joined by Andrea Romaoli Garcia, an international lawyer and Ambassador to the United Nations. Garcia has been vocal about the potential for digital economies to challenge malfeasance and return oversight to the individual.
Relex's Chief Business Strategist and Indian national Hriday Sarma organized the company's participation in the event. He believes that Telangana can follow in the footsteps of Malta as a special blockchain development zone in the Far East.
Match or Mixture?
India has been non-committal in its stance on cryptocurrency after a ruling from the Reserve Bank of India (RBI) in July 2018 put a moratorium on financial institutions that effectually stopped cryptocurrency trading.
Telangana has emerged from this lockdown as a forerunner of blockchain technologies, with IT Secretary Jayesh Ranjan reporting plans to sign MoUs with blockchain companies less than a month after the RBI's freeze on the digital assets.
India has been grappling with currency questions for much of the last decade.
Responding to an upswell of counterfeit notes, Prime Minister Narendra Modi announced in November 2016 that all 500 and 1,000 rupee notes would be rendered worthless, a whopping 86 percent of the paper money in the economy. Individuals holding the notes would have a limited time to exchange them at banks as part of a 'demonetization' process.
But rather than transitioning to a cashless (or cashlite) economy, the Indian government soon reissued fiat banknotes — albeit with enhanced security measures. A rise in digital transactions seen immediately after the currency burn quickly diminished as government-issued paper money reentered circulation. The number of notes in circulation now in 2019 is comparable to before the burn.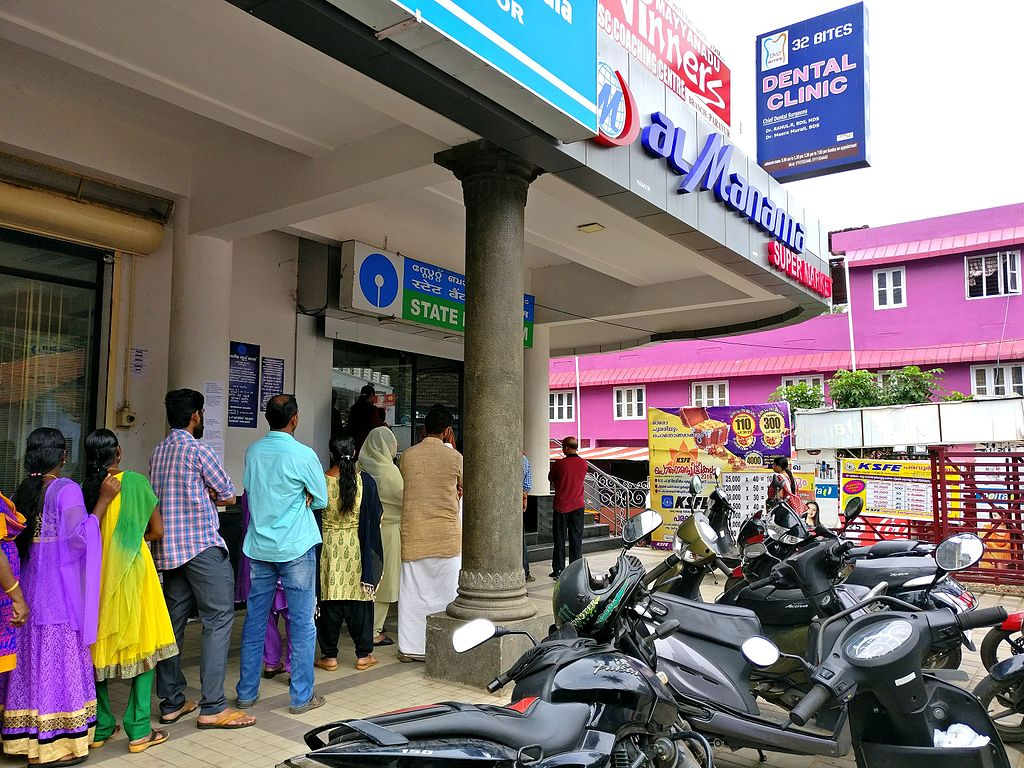 Citing a "noticeable increase" in counterfeiting the new bills, The State Bank of India released a document that has contradicted the RBI's claim that counterfeiting had been curtailed by demonetization and the new paper currency. According to Economic Analyst Vivek Kaul, the demonetization policy hurt poor agricultural people the most.
With a government trying to clear up counterfeiting and increase legitimacy in its economic system, the solution of blockchain technology seems a good match.
Not only would blockchain transactions help rid the fiscal system of unwanted counterfeits, but it would increase transparency and lead toward a modern, digital economy.
Anticipating the Future
With Indian national elections only a week away on April 11 (with results on May 23), questions regarding finance are in the spotlight.
Telangana, which has positioned itself as India's blockchain hub during the International Blockchain Congress held in Hyderabad last August, is leading the way as a think-tank for Indian politics.
The recent Blockchain for Telangana conference considered how blockchain technology could be used for smart governance, a bridge between the digital transformations Indians are protesting for and governmental oversight that would keep the economy in check.
And the rest of India is listening. While the governmental officials in Telangana learned about the unique affordances of blockchain technology in areas like real estate development, protestors gathered 350 miles north in Bangalore at Blockchained India's Open Town Hall to speak out against the restrictions on cryptocurrency and fight for fair regulations that would reintroduce blockchain to the second most populous country in the world.
Blockchained India's co-founder Akshay Aggarwal called for a host of voices to join in the discussion. "We will be creating a report, giving credits to whoever contributed and sharing it with relevant government and media outlets," he said.
Blockchained for India demonstrated on March 16 in Hyderabad, Telangana.
Opportunities Today

After their presentation, the Relex team met with government officials from Telangana and discussed additional transparency in real estate and infrastructure development investment.
With FDI directly proportional to countries' transparency indexes, the solution Relex offers is simple and elegant: access to worldwide capital with transparency via the blockchain.
The appeal of such a system has not been lost to other countries. The Republic of Belarus has nationally approved Relex for over $50 million in crowdfunding, a recently increased ceiling unparalleled in its industry worldwide.
A provincial government from the Si Ma Cai district in Vietnam has also said they want to work with Relex, marking one of the only times a government from one of the northernmost districts in Vietnam has welcomed an American finance company onto its soil.
In Telangana, Relex has additional meetings scheduled with the local government in upcoming weeks to further discuss how Relex can add to the tech state's digital economy.