Chez Darji: one of the most impressive features CoinPulse offers is an innovatively designed Automatic or Trailing Stop Loss -the function of automatic update of down-side protection limit
The market for cryptocurrencies differs from stock markets in which volatility (currency fluctuations) in crypto currencies is much greater than for stocks, futures, fiat, money, etc. There are not so many news on cryptocurrencies, and there are almost no cryptocurrencies for news. To raise the rate of a certain coin, if its capitalization is small, can a group of people, agreeing to invest in it a relatively large amount, to attract the attention of other traders, to force them to buy from them this coin at a high price. Some popular company can call up the rise in prices for a certain coin, saying, for example, about accepting it as payment, or approval from the state. Such news should be learned as soon as possible after they are published. Usually such events are covered on thematic sites on crypto currencies.
Today we will talk about the peculiarities of the work of the exchange CoinPulse and how it differs from other exchanges with Mr. Chez Darji
Hello Chez
-You will finance the June opening of a new exchange of crypto currencies. What is the main difference between your exchange and others?
- Coinpulse's focus on the cryptocurrency community mainly differentiates it from the other exchanges. CoinPulse is built bottoms-up based on the feedback received from surveys strategically conducted within the cryptocurrency community using several social media channels. Before starting development, CoinPulse surveyed the cryptocurrency community and obtained their feedback regarding the features they would like to have in an ideal exchange. CoinPulse also dedicated time and effort to identify the problems and issues common to current exchanges, and then incorporated all these details to develop a unique user-friendly global trading platform suitable for both new users and experienced users alike. The CoinPulse trading platform employs cutting edge trading technologies that will allow users to easily stay on top of their trades in real time with an intuitive easy to use format. The entire user interface has been designed with ease to use in mind yet it is loaded with powerful and convenient features. The innovative and beautifully designed Trading Dashboard is full of many great features and allows you to easily manage all aspects of your trades, trading history, portfolio, deposit/withdraw, favorited pairs, etc. from a single page.
Keeping the spirit of crypocurrency's decentralization efforts, CoinPulse has never collected any money in distributing either its currently native token, EBCH or rebranded token CPEX. The EBCH tokens were freely distributed to the community and are currently part of coinmarketcap.com. EBCH tokens will be swapped to CPEX tokens in the ratio of 1 to 3 leaving 20 million supply of CPEX token to be awarded free to all users who sign up on the exchange. Our signups are currently ongoing and we are seeing tremendous interest from the community in joining the exchange. We believe collecting money from the backers of our project is against the spirit of decentralization and that's the reason we decided to not bring an ICO of our tokens. The only ways to get CPEX tokens are to either signup on the exchange or swap your EBCH tokens.​
-The most amazing feature that CoinPulse will provide is Trailing Stop Loss, which is not available on any of the existing exchanges. How it works?
Yes, that's correct. One of the most impressive features CoinPulse offers is an innovatively designed Automatic or Trailing Stop Loss. This is a powerful, hard to find feature that will let you set a stop order that will be automatically adjusted each time the purchased cryptocurrency moves up 20% from the price it was started at. There will be Market, Limit, Stop Loss, Stop Loss Limit and Trailing Stop Loss trading tools available on CoinPulse Exchange. The regular stop-loss limit is static and once you set it up you can't change it unless you cancel that order and create another sell order manually. The users usually don't like this feature in cryptocurrency as cryptocurrencies are highly volatile. On the contrary, trailing stop-loss is a dynamic feature which will trigger 20% increment in Stop Loss price each time the purchased currency goes up by 20%, this percentage is based on original Buying Price and Stop Loss. When you use Trailing Stop Loss option, the buy order will execute as usual at the price you set and sell order will get executed at stop-loss limit if the best bid immediately goes down to the price you set to protect from the loss. But if the market first goes up by let's say 60%, the Stop Loss Limit will also go up by 60%. So, once your stop-limit is revised automatically by the system and then the price goes down, your sell order will get executed at this revised stop-loss price, thereby making you profit. So, each time the cryptocurrency goes up by 20%, your sell price protection (Stop Limit) also goes up by 20%, thereby letting you automatically take advantage of the currency moving in your favor without having to readjust the Stop Limit to benefit from the increase in the price. Considering some of the cryptocurrencies' tendency to fluctuate in a wide range this feature will be the most favored feature by the users.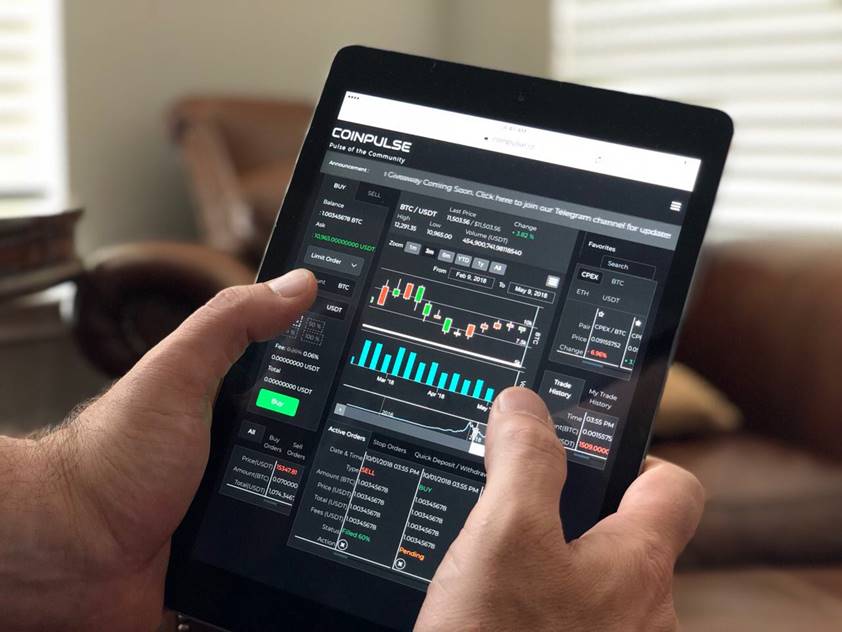 -CoinPulse is a very simple, easy to use and secured exchange with 2FA, multisig wallet security and end-to-end encrypted exchange. What is a purse and what is its safety?
CoinPulse Exchange wallets will be multi-sig with three private keys, which is an added security compared to most of the popular exchanges in the market which offers only single-sig wallets. Even the developers will not be able to move coins without three signatures obtained by the system. There will also be a hot key that can immediately stop all withdrawals in case of a hacking attack. As an extra measure of security, CoinPulse will be locking up 90% of all assets and holding them in cold storage. The entire exchange is end-to-end encrypted, which will keep our systems safe from third parties trying to decipher the data being communicated or stored.
-Credit currency exchanges are mainly used on commissions, the aggregate volumes of which can reach very serious indicators. What commission will be on CoinPulse?
The regular commission on the exchange will be commensurate with the market which is 0.2%. However, if the users use CPEX tokens to pay for the commission then this reduces by 70% to 0.06%, which is almost negligible. The 70% discount for using native tokens on the exchange to pay for the transaction fees is the highest among the similar type of exchanges.
-In general, the exchanges operate according to the same principle, but they often differ in terms of functionality and capabilities, trying to attract maximum users with their own characteristics. The most important from the point of view of the user difference is the choice of crypto currencies. On some exchanges only the most popular currencies are traded, on others - tens and hundreds of pairs. With what pairs of crypto currencies does CoinPulse work and what crypto will be added later?
Initially, CoinPulse will have four markets (BTC, ETH, USDT and CPEX) and they will be paired with LTC, DASH, ZEC, XRP, NEO and certain selected cyrptocurrencies carefully chosen from the cryptocurrencies suggested by the community through our community voting program. CoinPulse has a unique community voting program where members of the community can suggest adding their favorite coins and tokens for free of charge at https://request.coinpulse.io/. The voting will be used as a guideline for CoinPulse to decide which coins or tokens will be selected for evaluation first. Once selected, all assets will go through a comprehensive review process where they will be analyzed based on the team, size, value, demand, and many other important factors to ensure that CoinPulse only has high quality assets listed on its platform. So far we have received suggestions to add over 400 cryptocurrencies and 70,000 votes, which is a big achievement in itself and proves the backing our exchange has among the cryptocurrency community even before our launch.
-Some crypto-exchanges offer additional opportunities and bonuses-the possibility of margin trading, margin financing; accrual of interest on deposits; referral programs; availability of mobile applications. What set of bonuses does CoinPulse offer?
Yes, if you see our roadmap, we have plans to launch mobile application for the exchange later in this year. However, the exchange website has been already built to be compatible with all devices including phones, so you will have the same experience using our website on the phone as you will have on the desktop.
In terms of referral bonus, our referral bonuses are the most lucrative among available in the market proving once again Coinpulse's devotion to the community. Our users stand to make a 30% commission on all the fees generated from their referrals for the life time, which is a kind of unheard of in the market.

- A separate issue on fiat. Many traders are interested in the payment of fiat money to bank cards. And also the speed of money transfer. What payment systems will CoinPulse work with?
CoinPulse exchange is a crypto-to-crypto exchange, which means we will have no fiat currency conversion on our exchange. This helps us to offer more cryptocurrency pairs to our community on a global scale compared to other exchanges who offer fiat. By not offering fiat conversion on our exchange, we would not be obligated to so-called ban by several banking regulators around the globe and we can be a truly global cryptocurrency exchange. There are several avenues available to the users in the market to convert their cryptocurrency to fiat and we don't think that's a necessary feature a global exchange needs to have. We will however, offer a market in stable cryptocurrency like USDT where if the users want to park their funds temporarily to keep stable value, they can do so without bothering about converting them in to fiat currency.
- The question of verification. Not all miners and traders are ready to show their true face to banking systems. Will there be verification for CoinPulse?
Since we are not offering fiat currency conversions and we are based out of Panama, verification of the users trading in smaller amounts is not necessary. The users will not be required to verify their identity if their daily withdrawal is less than 2 BTC. However, if they want to withdraw amounts more than 2 BTC daily, then they have to go through our KYC process described on our exchange's website in detail.
- The issue of regulators has always remained relevant for the work of exchange. Does the regulators have influence on CoinPulse?
The regulators main concern is compliance with anti-money laundering acts and ban instituted in certain countries for conversion in to fiat currencies. We are not offering any fiat currency conversions and we are striving to adhere to all anti-money laundering requirements, so we do not foresee any issues from the regulators of the countries we plan to have business in.
- Your wishes to the readers of CryptoCapitalNews
This partnership with CryptoCapitalNews' readers has just started and we have lot to offer in the future. There will be several contests held in the future which will benefit the users of CryptocapitalNews and we wish the readers continue to follow us and CryptocapitalNews daily, so they don't miss any exciting news in store.
Readers can reach us by emailing at [email protected], or they can directly chat with us on Telegram at https://t.me/coinpulseex. Currently we are running a giveaway wherein the users will receive 200 CPEX tokens upon registering an account at https://coinpulse.io  
Twitter: @Chez__D