CryptoChicks celebrates the success of their inaugural female-focussed blockchain conference and hackathon
Toronto, Canada - Blockchain Industry Non-Profit CryptoChicks is celebrating the success of their first female-focused hackathon and conference which took place April 6th-8th April at the MaRS Discovery District building in downtown Toronto. The conference and hackathon hosted and facilitated the professional development of over 100 female hackers, and educated 400 conference attendees on the future of this new technology.
The women behind the organization have set the goals of providing more exposure to female talent in blockchain and connecting them with employers in the industry. During the weeks leading up to the conference, hackers were being offered free online blockchain-developer workshops by BlockGeeks. Before the hackathon even finished, some of the hackers were offered opportunities to further collaborate with  major players in the space, including IBM.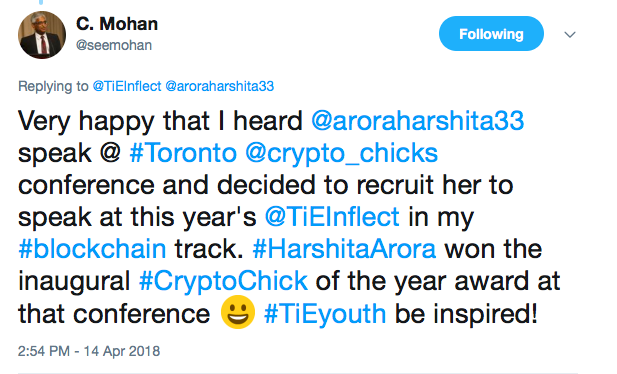 The event featured a majority of female speakers and attendees, and all hackers were female- a ground-breaking experience for a tech conference. Speakers came from across the globe: Dr. C Mohan of IBM, from California; Harshita Arora of Crypto Price Tracker App, from India and the US; Zoe Adamowicz of Neufund, from Germany; Dmitry Buterin and Natalia Ameline, parents of Ethereum inventor Vitalik Buterin, from Russia and Canada, and many others.
Conference sponsors and partners BlockGeeks, RBC, Pixel Dreams, MaRS, IBM, Polychain Capital, Microsoft, POA Network, GMP Securities, Polymath, Untraceable, Deloitte, Nobul, Opinion Economy, Right Mesh, ZCash, Juniper Life Insurance, Sterling Hoffman, Coinsquare, Neufund, Blockstack, Accenture, OneLedger, Version One, (Zero)X Protocol, The Bounties Network, Woppal, CryptoCapitalNews, NCFA, BBeyond, ICO Expo, Blockchain Radio, Toronto Starts, The Entrepreneurship Society, Blockchain Hub, ETH Denver, ICO Alert, CryptoCanucks and Bitcoin Bay all showed tremendous industry leadership by supporting this event. And the majority of them sent female representatives to the stage.
The hackathon proposals underwent a fully transparent voting on the Blockchain. Using the voting application Polys, judges and the public could chose their favorite projects and all votes were tracked in real time. Women, some very young, presented staggering innovations and a large number of socially-conscious projects built on blockchain. . Hackers improved on existing systems of farmed-products distribution, securing of evidence of crime, internal accountability in business, prevention of child exploitation, recycling, healthcare and business management.
Many hackers will now go on to further develop their projects in a CryptoChicks incubator program the group has announced.
"This organization has the chance to save our industry," said CEO Zoe Adamovicz, of Neufund, who is also a mentor at Gaza Sky Geeks."You will never achieve your objectives if you follow the King's moves," she said. "Play the Queen's game."
For more information on future events, visit www.cryptochicks.ca