B. Lee Jones: CyBit provides a professionally designed platform where entrepreneurs from any part of the world can present their ideas to audiences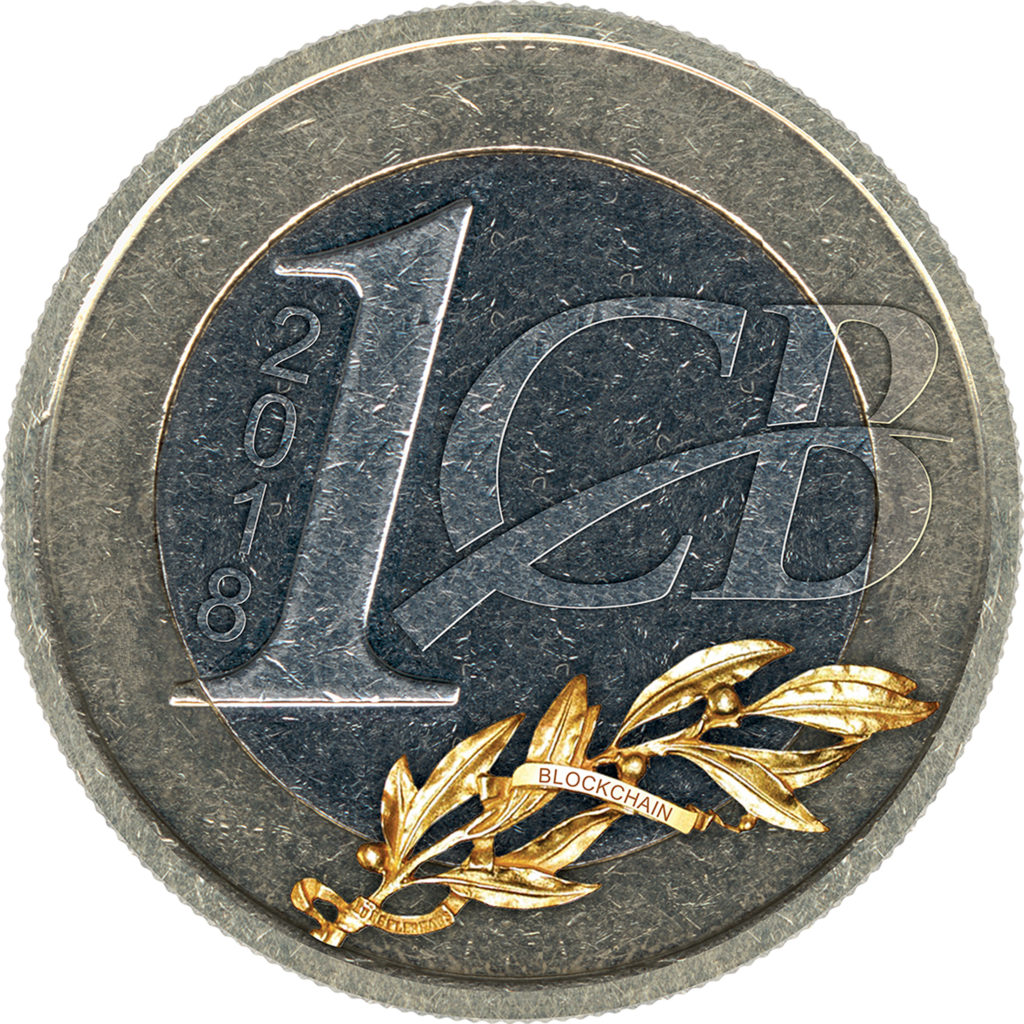 ICO or Initial Coin Offering is the most modern way of raising funds for financing business development or launching a completely new project. In other words, it is a tool for attracting investments.
ICO came to us due to the existence of an IPO and the appearance of such a phenomenon as a crypto currency.
The appearance of crypto currencies greatly influenced the community and demonstrated that not only stocks can be an effective investment tool. The issue of a virtual digital currency, which can then be used as a payment facility within a service or company, has proved to be the simplest and most attractive way for attracting investments and for investing.
Any ICO operates on block-chain technology. This means that any information about transactions is divided and sent to different storage devices, which can be hundreds of thousands, or even thousands of kilometers away. This excludes the possibility of fraud or access to these data by third parties.
Where the ICO is conducted. ICO is conducted on special platforms, and we will talk about one of them today. The most popular among the young platforms for block-start-ups and the release of tokens is now CyBit. What is this platform and how it differs from similar ones today we'll talk with Founder of Cybit, mr. Mr. B. Lee Jones.
- As the executive management of CyBit, what makes CyBit different from other platforms?
- "CyBit provides a professionally designed platform where entrepreneurs from any part of the world can present their ideas to audiences, which include Venture Capitalists and other high net worth investors looking for investment opportunities. Our team of dedicated business analysts will quantify and qualify business proposals on various domain specific parameters which will help investors understand the risks and returns associated with their projects. By implementing the term sheet (investment agreement) on a block chain, the total fund agreement timelines and suitable business metrics can be coded into a 'smart' contract which makes it understandable and non-problematic for both investors and the founders.Our solution is designed and supported by professionals to provide you with the latest, secure technology in all areas of conducting your business."…B. Lee Jones…CEO
- Is there a strict selection of customers for Cybit, or are you ready to accept all those who pay the commission?
- "Using the CyBit platform, the ICOs can submit business proposals, list them on the CyBit portal, and Interact with other ICO companies. CyBit analyses the business proposals of start-ups and rates them on the platform. During the analysis, when a business proposal (not the proposition) is found unsatisfactory, CyBit analysts make an interaction with the requesting company and assist them in modifying the business proposal to prepare it for funding."…CyBit Whitepaper
- Experts predict changes in the ICO market in 2018. This is due to the possible emergence of industry regulation and the expected reduction of the overheated market. Did you have a question with the regulator?
- "According to Jerry Brito, Executive Director of the nonprofit organization Coin-Center, governments will increase control over token sales. This year the US Securities and Exchange Commission (SEC) said that the virtual coins or tokens that are offered or sold might be securities.  If they are securities, the offer and sale of these virtual coins or tokens in an ICO are subject to the federal securities laws. In this regard, the SEC filed charges of scam and non-compliance with the legislation against several ICO organizers. Brito thinks that other countries, which are going to take anti-scam measures, will follow the US example.
"The need for token sales to comply with SEC rules, combined with investors' desire for greater confidence, may lead to a new trend. In 2018, we'll see the emergence of platforms for the offering of new tokens that will better qualify the tokens before they're allowed to be sold, and will help investors make better judgments about them."…DeCenter.org
- This issue is very important and affects many aspects. First of all, how to get on CyBit for ICO and what criteria it is necessary to possess. And the second point, if in the process it turned out that a fraudster is involved in CyBit, what would you do?
- "The professionals of CyBit platform are doing what they do best in shielding the platform from malicious code, protecting your investment and providing an optimal platform that promises fruitful return for your investment. Logically speaking, the ERC-223 protocol is known as the most innovative and the best in business, when it comes to employing the smart contracts fostering a highly secure environment in the validation of transactions from hackers."…B. Lee Jones CEO … "WHAT KEY STEPS AN ICO CAN TAKE TO PROTECT ITS PLATFORM FROM MALICIOUS ATTACKS"
- An indicator of success is important for each ICO platform. According to this indicator, investors determine their confidence index. How much ICO was held on CyBit and what percentage of success?
Our goal is to be as transparent as possible with token distribution and ownership.
"We firmly believe that Cryptocurrencies are part of the global financial future and are committed to building high-quality services around that viewpoint!"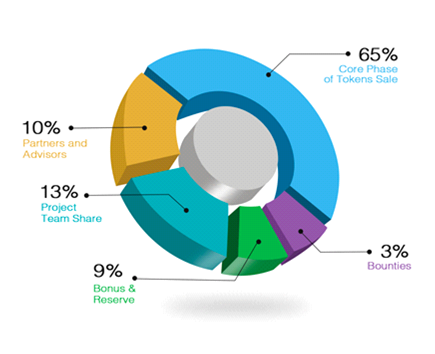 NOTE: Every year the Reserve will dilute by 2%. Advisors Tokens will be created for and granted to our key advisors who have committed their deep business acumen throughout the realization of the project. During that process, our advisors will play a key role in providing executive guidance toward success of the project. Bounty Pool Tokens will be allocated to several bounties, which we will be distributed to everyone who provide services to CyBit before and during the ICO for services such as social media support, translation, moderation, surveys, detecting bugs and vulnerabilities. RESERVE FUND This pool of tokens is dedicated to incentivizing value creation and active participation within the CyBit platform. The funds will be used to reward active community members in order to spur growth and to provide a sustainable pool of tokens to continuously stimulate content creation and CROWDSALE Tokens will be distributed after the ICO is concluded."…CyBit Whitepaper
- According to information from some sources, in 2018, China can legalize all processes related to crypto currencies. And if this happens, then we will see a sharp increase in the crypto currency market. What is your opinion?
- "China seems quite skeptical about cryptocurrencies per se. The start of its complex relationship with Bitcoin could be traced back to 2013, when the People's Bank of China (PBoC) noticed that the coin was gaining popularity in the country. In December 2013, the watchdog, along with five other government bodies, issued an announcement dubbed "Notice on Preventing Financial Risk of Bitcoin", pinpointing several factors in order to warn investors: namely low safety due to the lack of a centralized entity behind the currency.
Thus, all banks and financial organizations were prohibited to carry out any crypto-related operations, and all companies offering any services involving Bitcoin were obliged to register with the relevant authorities and to follow know-your-customer (KYC) procedures to prevent money laundering, tax evasion, etc. As a result of the notice, Bitcoin has become a virtual commodity in China, like in-game credits. Essentially, it can be traded in its original form, but cannot be exchanged for fiat currency, nor can it serve as a means of payment."… Source:
https://cointelegraph.com/news/china-as-a-prime-example-of-blockchain-before-bitcoin-policy
Personal Opinion: The Blockchain outlook in China seems to be improving because of the appointment of new administrators in the Institute of Digital Currency.  Beijing has not softened on its stance regarding cryptocurrency and the disclosure of over 400 'fake' cryptocurrencies has strengthened their resolve.  When it is available the increase will be ballistic.
- Does CyBit plan to release its token?
CyBit pre-ICO launched on the 28th of April, 2018 and the main ICO began on the 15th of May. The campaign lasted until 30th of May, 2018. The CyBit token [CBT] will equal to $0.05 USD.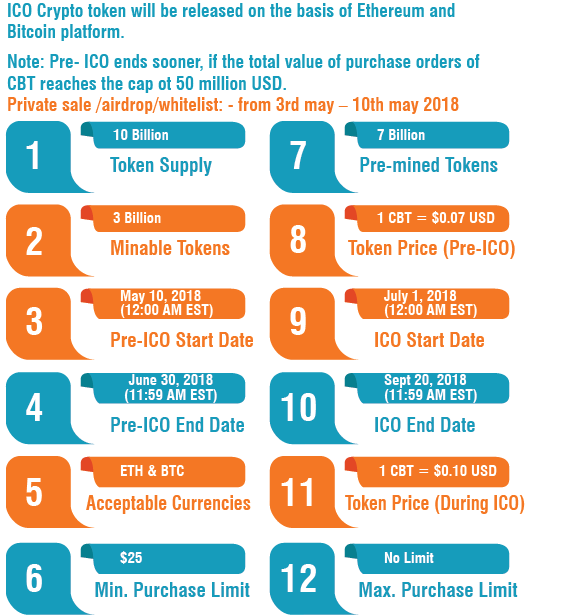 Thank you Mr. B. Lee Jones for the interview.