REASONS TO INVEST IN ADAB SOLUTIONS NOW
Investing in ADAB Solutions
There are around 30.000.000 unique cryptocurrency users all over the world, that is less than 1% of the world's population (Statista, 2018). In the Islamic world much fewer people involved in the crypto industry.
ADAB Solutions plans to attract 0.1% of Muslims to use its services within 4 years and the company's view may be overly understated. The company will make every effort to significantly increase the rate (Table 1).
• The company will continuously increase the customer base and turnover of the exchange.
The turnover of the exchange depends on many factors, both internal and external.
The most important internal factors include the following:
– NUMBER OF INSTRUMENTS AVAILABLE FOR TRADING
– THE AMOUNT OF CUSTOMER FUNDS
– TURNOVER RATE OF FUNDS (Graph 1).
• Due to the market opportunities expansion, and, taking into account that in general ADAB Solutions does not have direct competitors, the company has excellent potential for expanding its customer base. Potential to increase the market share is significantly higher than 10%. FICE aims to achieve at least 25% of the market share (Table 2).
• The placement of new halal projects on the exchange can bring new users to the exchange and significantly increase the turnover of the exchange.
• Prove the systematic and constant growth of the value of the token.
Taking into account the growth rate of the stock exchange's turnover, the demand for tokens will increase, but assuming that tokens price do not go up, then the number of tokens required for the exchange's turnover sharply increases. This assumption does not take into account the turnover of the token.
However, a simplified model shows the minimum required token value to compensate the gap between the required number of tokens and the actual available amount (Table 3).
• The turnover of assets forecasted on the exchange is 3–10 times less than that of other exchanges. This is due to the fact that speculative operations will be much smaller given the expected lower trading activity on the Muslim currency exchange. Also, initially the growth forecast for trading activity was lower by 33% for FICE, and market leaders were also not taken into account. Therefore, in case of growth in trading activity, the demand for ADAB tokens can be significantly higher, hence, the price is much higher.
But does it make sense to buy tokens right now when the rates are falling down?, — Yes, it's worth it. Current situation allows to buy tokens for lower prices and achieve profits in the nearest future.
Appendix
Number of Blockchain wallet users worldwide 2015–2018
Source: https://www.statista.com/statistics/647374/worldwide-blockchain-wallet-users/
Table 1
Graph 1
Table 2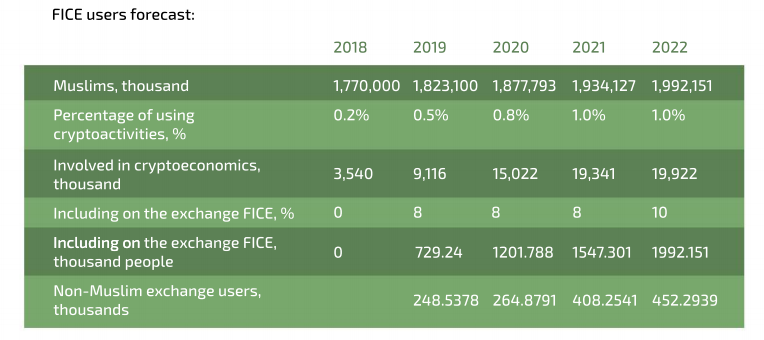 Table 3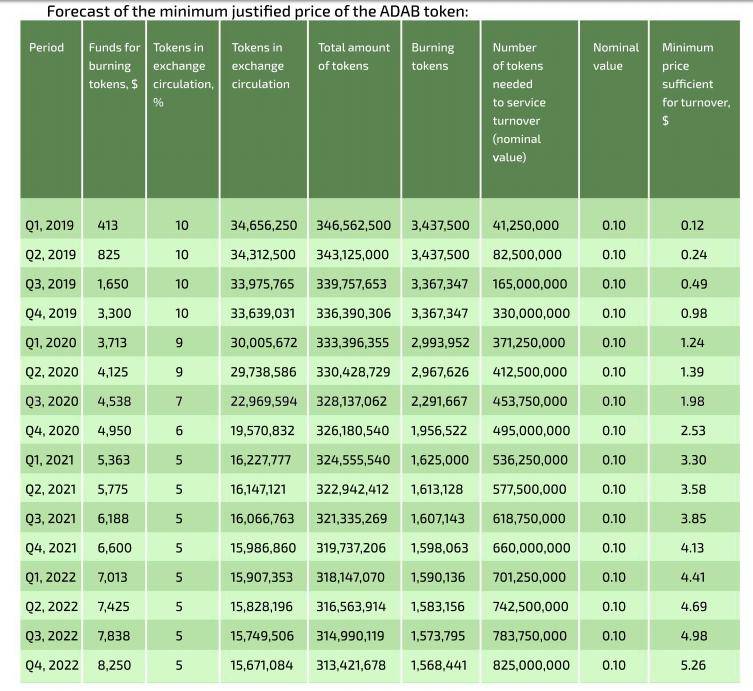 Table 4
Facebook — Twitter — Reddit — Steemit — Telegram group — Telegram channel